Backgrounds page 1
These are background graphics I have created for you for free, you may have them for your personal home pages only. They are not for commercial use.

If you decide to use them on your pages, please provide a link as a courtesy with the logo provided at the bottom of the page. If you want to use them, download them to YOUR server.

These are thumbnails, to view the full size image, click on the thumb. To copy these backgrounds to your computer right click on the one of your choice and save the file to your hard drive. Remember, DO NOT link to these graphics.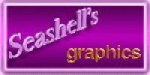 Copyright © 2001 SeaShell's Graphics
All Rights Reserved
Sign My Guestbook
View My Guestbook

This page has been visited
times.

Main geocities page|Graphics Page|Bars and Buttons|Clip Art|
Backgrounds page 1|Backgrounds page 2|Helpful links|3D Images|More 3D Images|
Friendship|Kiss Applet|Music Graphics| Backgrounds Page 3|SeaShell's Beanie Babies|Beanie Babie Hang Tag Info|Awards|Lindy's Waterfall|Welcome & Web Ring Page|Something Cute!!|Tinkrbel's Backgrounds|