Tinkrbel and her Backgrounds
To view these full size, please click on the name of the border. Then while viewing them if you want to save them, right click your mouse and save it to your hard drive. If you try to save the thumbnail on this page, you will only get a thumbnail not the full sized border.
Visit tinkrbel

If you would like to use a background border made by tinkrbel, please add a link back to this site. Thank you.

Copyright © 2001 SeaShell's Graphics
All Rights Reserved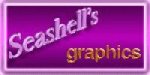 Main geocities page|Graphics Page|Bars and Buttons|Clip Art|
Backgrounds page 1|Backgrounds page 2|Helpful links|3D Images|More 3D Images|
Friendship|Kiss Applet|Music Graphics| Backgrounds Page 3|SeaShell's Beanie Babies|Beanie Babie Hang Tag Info|Awards|Lindy's Waterfall|Welcome & Web Ring Page|Something Cute!!|