I'm having such a good time with this that I had to make a few more!
Please remember to link back to my Graphics page if you deside to use any of these.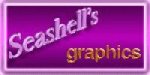 Copyright © 2001 SeaShell's Graphics
All Rights Reserved
Sign My Guestbook View My Guestbook

This page has been visited
times.

Main geocities page|Graphics Page|Bars and Buttons|Clip Art|
Backgrounds page 1|Backgrounds page 2|Helpful links|3D Images|More 3D Images|
Friendship|Kiss Applet|Music Graphics| Backgrounds Page 3|SeaShell's Beanie Babies|Beanie Babie Hang Tag Info|Awards|Lindy's Waterfall|Welcome & Web Ring Page|Something Cute!!|Tinkrbel's Backgrounds|